Posts for tag: dental crowns
By Michael E. Huguet DDS
January 11, 2019
Need dental crowns? One of the most revolutionary developments in dentistry, crowns are tooth-shaped caps that cover the outside of the teeth to correct a variety of dental problems. The family dentists at Dr. Huguet & Associates, which is located in Pleasant Hill, CA, offers a complete range of dental services. Read on to find out what dental crowns can do for your smile!


Fix Your Smile Issues

Often used to restore badly decayed, broken, and damaged teeth, crowns can also be used to cover dental implants, attach dental bridges, and protect weakened teeth after treatments such as Root Canal Therapy.
Enhance Your Smile

In addition to the medical benefits, crowns can also give you a better-looking smile. Given that the porcelain variety is often considered the best looking of all the options, they're often used for the front teeth. Nothing gives the same luster, translucency, and depth like a porcelain crown!


Improve Oral Function

It's difficult to chew food when you have fractured teeth, however, crowns will give you the ability to enjoy good food all over again! By restoring the structure of your broken or damaged teeth, crowns allow you to eat in comfort and confidence. This ability is long lasting too, as crowns generally last between 10 and 15 years, with some even lasting a lifetime!


Whiten Your Teeth

Crowns can instantly correct tooth discoloration. If your tooth has darkened after a root canal or taking tetracycline, bleaching it won't help. In these cases, your family dentist may recommend covering the discolored teeth with dental crowns.


If you need dental crowns, why wait? We can help you today! Call the family dentists at Dr. Huguet & Associates at (925) 945-6204 today to schedule a dental consultation in Pleasant Hill, CA. Dental crowns will improve your smile and restore your confidence—remember, it's never too late to improve your smile!
By Michael E Huguet DDS
April 05, 2013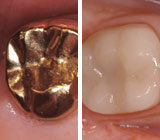 A "crown" or a "cap" is the term used to restore a decayed or broken tooth that needs to be completely encased to protect the tooth beneath it. A crown's dual purpose is to restore the tooth's form and function. Decades ago gold was the material of choice for a crown. What we ultimately choose depends on a particular crown's requirements with regard to the tooth's appearance and function, and to some extent what you want.
Gold: Gold crowns last the longest and wear the best (at about the same rate as natural teeth), but they are not used as frequently today, especially if they are visible in a person's smile. Gold crowns are made of cast gold, a technique that has been in use for over a hundred years. They can last for decades, and have been known to last 50 years or more. They tend to cost less per tooth than porcelain or other materials.
All-Porcelain: "All porcelain" crowns have a natural appearance and as technology improves they are gaining popularity. Dental porcelains are composed of ceramic substances that are variations of glass. This gives them their translucent, lifelike appearance — but it makes them brittle and subject to fracture. Therefore all-porcelain crowns may not be a good choice for back teeth because they frequently fail under the biting forces applied during chewing and especially adverse habits like tooth clenching or grinding. Porcelain crowns are made of material that doesn't wear. Consequently, it can cause excessive wear to the teeth they bite against.
Porcelain-Fused-to-Metal (PFM): PFM crowns have been in use for more than 40 years. They combine a substructure of gold or platinum for strength and have porcelain "facings" for the visible surfaces. In some ways they combine the best of both worlds, but they do have some problems; the metal can show through the porcelain, detracting from its life-like appearance. These crowns can have a functional lifespan of about 20 years or more.
New and Future Materials: Newer "pressed-ceramic" restorations and computer-milled ceramics have received good reviews for aesthetics and service. These new materials are being intensively researched. Initial results look good, but we'll have to see how they last over time.
Contact us today to schedule an appointment or to discuss your questions about crowns and other dental restorations. You can also learn more by reading the Dear Doctor magazine article "Gold or Porcelain Crowns?"